Finally! Back to Asia on an extensive tour to Indonesia, Malaysia, Singapore and the Philippines.
We are bringing a set of all our greatest hits for you to sing along to. We look forward to seeing a lot of happy people and sharing some great moments with our wonderful Asian audience.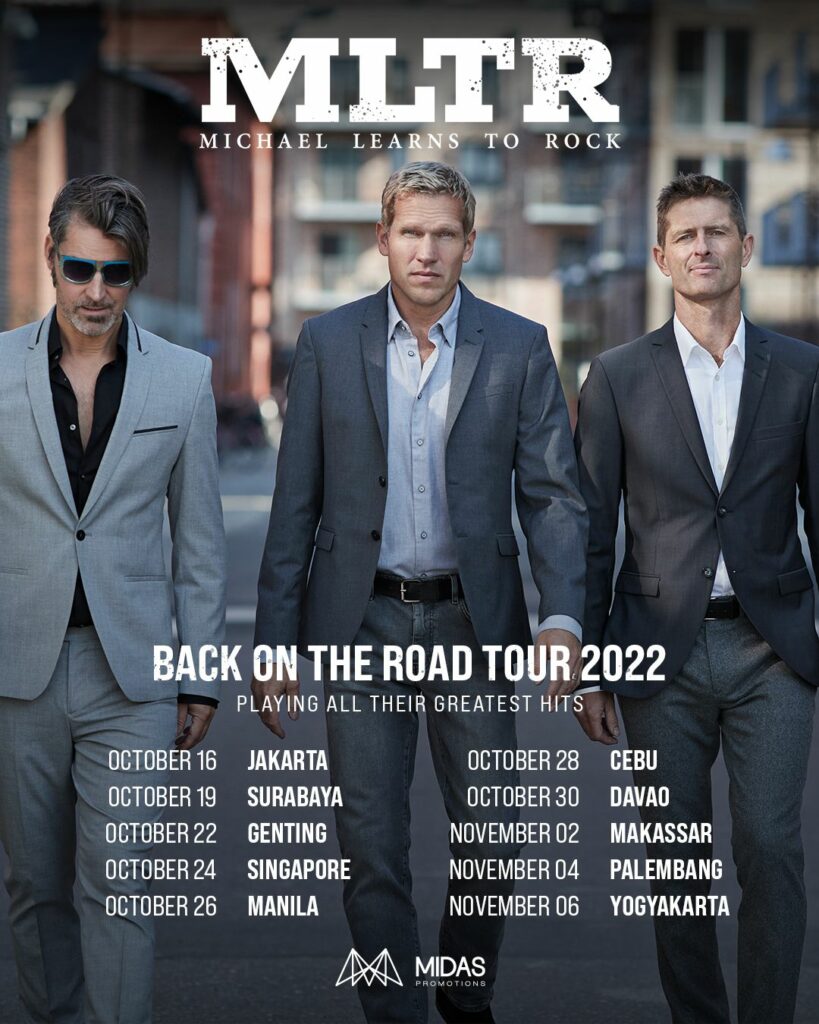 Tickets can be found here:
Oct. 16. Jakarta: SOLD OUT!
Oct. 19. Surabaya: https://en.tiket.com/to-do/tiket-konser-mltr-surabaya-2022
Oct. 22. Genting: https://www.rwgenting.com/en/entertainment/michael-learns-to-rock-back-on-the-road-tour-2022-live-in-malaysia.html
Oct. 24. Singapore: https://www.sistic.com.sg/events/michael1022
Oct. 26. Manila: https://ticketnet.com.ph/Events/detail/MLTR-Michael-Learns-To-Rock-Back-On-The-Road-Tour-2022
Oct. 28. Cebu: https://smtickets.com/events/view/11424
Oct. 30. Davao: https://smtickets.com/events/view/11425
Nov. 2. Makassar: https://www.loket.com/event/michael-learns-to-rock-live-in-makassar_DgSg
Nov. 4. Pelambang: http://tiket.com/to-do/tiket-konser-mltr-palembang-2022
Nov. 6. Yogyakarta: https://www.tiket.com/to-do/mltr-back-on-the-road-tour-2022-yogyakarta